Recommended
by NAHC
The Original SpinJag
has received the
North American
Hunting Club
Member Tested & Recommended
Seal of Approval

SpinJag works with
many bullet shapes
A sample of the many shapes the SpinJag handles: round-balls, polymer-tipped bullets and other muzzleloader projectiles with or without sabots.

Made in
the USA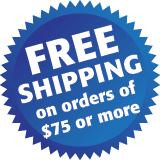 Buy $75 or more worth of SpinJag products and get FREE standard shipping
Free standard shipping within the Continental USA. Does not include oversized items (like the giRAMROD) or Priority shipping.
---
Standard Shipping Rates Within The Continental USA

Order Cost
Rate
$.01 - $17
$3.50
$17.01 - $34
$4.00
$34.01 - $51
$4.50
$51.01 - $74.99
$5.00

Free Shipping On Orders Over $75.00

NOTE: giRAMRODS require a $3.00 Oversize Package Fee. Free Offer does not apply to Oversize Package Fee.